Robert Simmons, NATO Secretary General's Special Representative on the Caucasus and Central Asia, will visit Baku on March 7.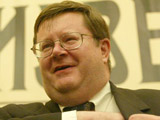 Spokesman for Azerbaijan's Foreign Ministry Khazar Ibrahim said that the main goal of Robert Simmons' visit is to conduct discussions on implementation of the second phase of Individual Partnership Action Plan (IPAP) between Azerbaijan and NATO.
Robert Simmons will have several meetings in Baku.
Foreign Minister Elmar Mammadyarov will also receive NATO special representative.
Robert Simmons is expected to attend the 68th Rose-Roth Seminar of NATO PA in Baku.
/APA/