CoE Secretary General Terry Davis is concerned with the development of events in Yerevan in connection with protests.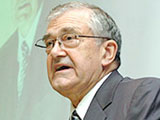 The press service for the CoE headquarters reported that the statement of the CoE Secretary General reads:
"I am concerned with the information about violence during the operation on dispersing protests in Yerevan by the security forces.
If this information is confirmed, all announcements on violence in Armenia should be studied thoroughly. It is also important to prevent all other attempts of further violence", the secretary general noted.
The CoE Secretary General voiced concern over the information that the candidate to Armenian President, first President Levon Ter-Petrosyan is under home arrest.
"If this is true, he must be released immediately. If he is accused of committing a crime, the argumentation of the accusation should be presented duly and he should be face charges in the judicial order as any other citizen. The arbitrary detainment of political opponents is impossible in a democratic country", the statement reads.
/ArmInfo/