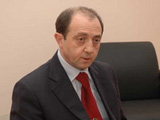 "Before making statements on the abolition of visa regime between Iran and Azerbaijan, all the points of the issue should be made clear," Azerbaijani ambassador extraordinary and plenipotentiary to Iran Abbasali Hasanov told APA.
He said one-week visa is granted in Tehran Airport and its term is not prolonged.
He noted that this kind of visa will create problems for Azerbaijanis.
"Unexpected problems emerge when a patient is brought to Tehran. Iran does not prolong the term of the visa even in this situation. The people facing problems appeal to the Azerbaijani embassy. We make an official appeal to Iran. But the term of their visa is not prolonged," he said.
Noting that simplified visa regime is not applied unilaterally Abbasali Hasanov said the procedure is implemented mutually.
"It is reported that Iran applies simplified visa regime on the border region for Azerbaijani citizens. In fact, this procedure is implemented basing on the contract on preferential travel between the two countries. Iran has not created conditions for Azerbaijanis unilaterally. The procedure is mutual and Iranian citizens also use this opportunity," he said.
The ambassador also took a stance on Iran's statements that visa regime should be eliminated.
"It would be better if representatives of Iran comment on the whole aspect of this issue. They have stated several times that they are ready to abolish the visa regime. We say that there are terms for abolition of visa regime. First of all, technical issues at border checkpoints and customs offices should be solved. Moreover, there are some requirements. We should implement them and then abolish visa. We are not ready for this yet," he said.
/APA/