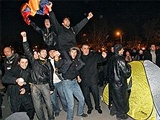 Armenian riot police used truncheons Saturday to break up a 10-day protest in the capital Yerevan by opposition supporters who say last month's presidential election was rigged, witnesses said.
Several thousand opposition supporters had been protesting daily in Yerevan's Freedom Square since Prime Minister Serzh Sarksyan was elected to replace his ally Robert Kocharyan as president in a Feb. 19 vote.
The riot police moved into the square early on Saturday after authorities had said they were losing patience with the protests, led by Levon Ter-Petrosyan, Armenia's first president after independence from the Soviet Union.
"We were asleep," said one of the protesters who had been keeping an overnight vigil in the square.
"They came and they started to beat us up. They had truncheons," said the man, who showed Reuters a broken finger. He declined to give his name.
The protests had risked destabilizing Armenia, a former Soviet republic that lies in a Caucasus mountains region now emerging as an important transit route for oil and gas supplies from the Caspian Sea to world markets.
Armenia is still officially at war with neighboring Azerbaijan over the territory of Nagorno-Karabakh. Oil and gas pipelines operated by a BP-led consortium run through Azeri territory a few miles from the conflict zone.
Allegations of a stolen vote

Ter-Petrosyan, who ran in the election, launched the protests after alleging Sarksyan had used ballot-stuffing and intimidation to steal victory. Sarksyan denied the charges, and Western observers have called the vote broadly fair.
At their peak the protests attracted tens of thousands of people, though numbers had fallen off in the past few days.
A spokesman for Ter-Petrosyan said riot police moved in at 7.30 a.m. Saturday (10:30 p.m. ET Friday). "They came, they beat people up and they removed everyone," said Arman Musinyan.
Ter-Petrosyan was not detained and had returned home, he said, adding the opposition planned to attempt a further protest later on Saturday.
But a Reuters correspondent at Freedom Square said it was now surrounded by several hundred police with riot shields and that they were not allowing anyone access.
A group of about 15 people began shouting "Levon! Levon!" near the square. Police quickly moved in to disperse them, the correspondent said.
Observers from the Organization for Security and Cooperation in Europe said the Feb. 19 election broadly met Armenia's commitments on democracy, though there were some flaws.
/Reuters/