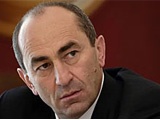 The due announcement was made by Armenian President Robert Kocharyan.
"Recognition of Kosovo's independence was inevitable. I don't think that independence of people, which has long lived independently on its historical lands, would not be recognized", Kocharyan said at the meeting with the students of the Yerevan State University.
Another matter is that whether it was necessary to recognize independence immediately or undertake gradual steps, thus, softening the reaction of the Serbian side and demonstrate flexibility in this issue.
"The Kosovo precedent is too important for Armenia. Certainly, this will have a positive influence for recognition of independence of "Nagorno Karabakh Republic", but it should be taken into account that we first declared independence in Nagorno Karabakh in September of 1991 and held referendum in December", Kocharyan noted.
At the same time, the president noted that Kosovo has just started to fight for its independence and "in this aspect "Nagorno Karabakh Republic" have as many chances for recognition of its independence as Kosovo".
However, Kocharyan added that Kosovo's example differs from Karabakh, as Kosovo is in the center of Europe and many facts are in favor of this region.
"But we will be consistent in our fight. Nagorno Karabakh's independence is a fact for us and other countries should also recognize it", the Armenian President noted.
/Novosti-Armenia/