We have said repeatedly that the meeting between Azerbaijani and Armenian communities of Nagorno Karabakh is currently impossible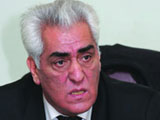 The due announcement was made by Nizami Bakhmanov, head of the Azerbaijani community of Nagorno Karabakh.
He said the meeting of the community can only take place after the definition of the status of Nagorno Karabakh and return of Azerbaijanis to their houses.
"Perhaps, one meeting may occur by accident. However, this will be possible only after a breakthrough on the talks. If it does not occur and occupation of a part of lands by Armenia is not eliminated, what can the communities speak about?
The war was not between communities. The war was between Azerbaijan and Armenia. The war touched upon not only Nagorno Karabakh and adjacent regions. It involves Qazakh, Tovuz, Gedabek regions of Azerbaijan, which are far from Nagorno Karabakh", he said.
/Day.Az/