Britain's Prime Minister Tony Blair told lawmakers Tuesday that no military action is planned against Iran, but that international opinion is hardening against Teheran's nuclear ambitions and what he described as its interference in conflicts across the Middle East.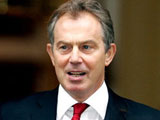 Iran has been widely criticized for links with Hizbullah in Lebanon, Hamas in the West Bank and Gaza, and Shi'ite militias fighting coalition forces in Iraq.
Iran "is trying to prevent reconciliation across the region, and I think that is very shortsighted and very foolish," Blair told the House of Commons' Liaison Committee.
"If they were able to play a constructive role in Iraq, it would be of immense help to the international community. It would also actually be of immense help to Iran in the end since they don't want chaos on their borders," Blair said during his biannual appearance before the committee to discuss a wide range of local and international issues.
"You can't take any option off the table, but nobody is talking or planning military intervention. That's not what the international community wants, " Blair said. "It's not what we want."
The liaison committee is composed of chairmen or chairwomen of other Commons committees, and is the only one Blair regularly appears before.
US President George W. Bush has said he has no plans to invade Iran. But he recently increased the US naval presence in the Persian Gulf to its highest level since 2003 by ordering a second aircraft carrier strike group to the region. Bush also has authorized the US military to kill or capture any Iranian agents plotting attacks in Iraq against American forces.
The United States and several Western allies believe that Iran is using its nuclear program as a cover to produce atomic weapons - a charge Iran denies. Teheran says it seeks only to generate electricity.
Last week a respected think-tank, the International Institute for Strategic Studies, said Iran was likely two to three years from having the capacity to build a nuclear weapon.
Blair also defended his government's close relationship with the United States and his readiness to send British troops overseas. He said it was "ridiculous" to suggest the use of force in Iraq or Afghanistan was fueling Islamist extremism, arguing it was necessary to stand up to radicals in their midst.
Britain's influence with China and India and other countries depended on its close relations with Washington, he said.
"I am the person, above all, who can give evidence of the difficulties and sometimes the political penalty you pay for a close relationship with the US, but we shouldn't give that up in any set of circumstances, in my view," Blair said. The Jerusalem Post