Azerbaijan's Emergencies Minister, Colonel General Kamaladdin Heydarov received Special Representative for Commercial and Business Affairs of US Department of State Frank Mermoud.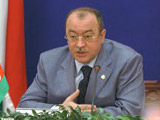 They spoke about the development of cooperation between the two countries. Mermoud stressed that this visit will contribute to the development of cooperation between the US and Azerbaijan.
"There is a great potential for American companies in Azerbaijan. These companies can function more actively," Emergencies Ministry public affairs official told the APA.
They also discussed the issues on cooperation between the Emergencies Ministry and the US.
Kamaladdin Heydarov said Emergencies Ministry has been functioning over a year. The Ministry established relations with relevant bodies of different countries and new equipment was bought during this period.
Minister said they are holding negotiations with the US companies on buying new equipment for Civil Defense, Fire Safety Service and Material Reserves.
Heydarov stressed that there is a need for modern planes and helicopters to extinguish forest fires and ships for rescues in the Caspian Sea.
Mermoud also stressed the importance of exchange of practice and said necessary steps will be taken to intensify relations with companies.