The officers of Azerbaijan State Border Service prevented 18 facts of violation of state borders.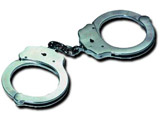 As the result of the operations 21 Iran, 8 Azerbaijan, 6 pakistan, 3 Iraq, 2 Nigeria, 2 Georgia, 1 Afghan, 1 Russia and 1 Turkey citizens were detained because of border violations.
47 wanted persons were detained and handed over to law enforcement bodies.
Transition of 2, 950kq marijuana and 18qr opium was prevented.
10 Iran citizens were detained because of visa, 3 Iraq and 2 Nigeria citizens because of falsified documents, 1 Azerbaijani and 1 Turkey citizens were detained because of using the documents belonged to another man.
Besides, measures have been take about detained 9 Iran, 7 Turkey, 5 Malaysia, 3 Great Britain, 2 Tunis, 2 China, 1 Bulgaria, 1 Denmark, 1 Ukraine, 1 Afghan, and 1 Philippine citizens. Within last month, 21 men were detained on violating border rules with small boats and illegal fishing.
90 tonnes diesel and 65 boxes of sprat were confiscated from three ships belonged to Azerbaijani side.
The transition of 89 alcoholic drinks, 35kq gunpowder, 1 knuckle-buster, 24 adornments, and 429 religious books was prevented, SBS press center told the APA.