"The solution to the Nagorno Karabakh problem is deliberately protracted," prominent Kyrgyz writer Chingiz Aytmatov told.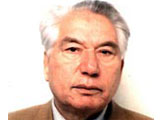 Commenting on the settlement of the Nagorno Karabakh conflict between Armenia and Azerbaijan Mr.Aytmatov underlined that the West assists the invader by protracting the settlement of the conflict.
 
He also stressed Russia is not interested in the settlement of the conflict noting that one of the creators of the problem is Moscow itself, APA reports.
"I am concerned about the protraction of the conflict. The train might be missed, I am afraid," Mr.Aytmatov stressed.
At the end the prominent writer also conveyed his best regards to the Azerbaijani people.
Chingiz Aytmatov is Kyrgyzstan's extraordinary and plenipotentiary ambassador to Belgium, the Netherlands and Luxemburg.