Video footage of a self-confessed murderer striking a heroic pose alongside security force members after his arrest for the killing of a Turkish Armenian editor has revived fears in Turkey of a shadowy state within a state.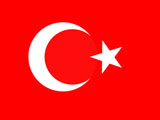 Above Ogun Samast's head are the words of modern Turkey's revered founder Mustafa Kemal Ataturk -- "The land of the fatherland is sacred. It cannot be abandoned to its fate".
Turkey has launched a probe into how and why the film was taken after Samast's detention for the suspected murder of Hrant Dink, a prominent journalist hated by nationalists for urging Turkey to come to terms with mass killings of Armenians in 1915.
On Friday, four police were dismissed and four paramilitary gendarmes transferred, state news agency Anatolian reported.
Suspicions of possible collusion between Samast, seven others charged over the murder and the security forces had already surfaced before the video scandal, when it emerged that authorities had repeatedly ignored warnings that ultra-nationalists planned to kill the journalist.
Even Prime Minister Tayyip Erdogan has speculated openly about the possible involvement of a "deep state" in the murder, though some analysts say this decades-old concept may be just a convenient fiction to cover up official incompetence or neglect.
The term "deep state" generally refers to a loose network of hardline nationalists working within the security forces and state bureaucracy, prepared to kill reformers and other perceived threats to Turkey and Ataturk's legacy.
Erdogan, whose reform-minded government is under fire ahead of elections this year for failing to combat crime, defined the deep state as "gangs within state institutions".
"We will not allow those in the state sector to organise gangs, ignoring the supremacy of the law and putting emphasis on their own separate values," he said on Friday.
The government has sent inspectors to the Black Sea town of Trabzon -- home of Samast, 17, and his co-defendants -- to investigate whether the local authorities were at fault. It has also recalled the town's governor and police chief.
But reviewing past killings and other unsavoury incidents laid at the door of the "deep state", many commentators do not expect the government to make much headway.
"The deep state cannot be eradicated because it has no organised structure," said Ankara University's Baskin Oran.
"It does not matter if the deep state was directly involved (in Dink's murder) or not. The car has been primed to go by itself," he said, referring to an increasingly nationalist atmosphere in Turkey that feeds violence and intolerance.
"The deep state moves in at the moment when we are about to find something out (about some crime). It does not necessarily direct the actions themselves."
Oran, like many other intellectuals, has been given police protection since the Dink murder after receiving death threats.
Nationalist-minded academic Hasan Unal of Ankara's Bilkent University dismissed the talk of a "deep state" as an attempt to undermine Turkey's armed forces and patriotism.
"The real culprits are the liberal elite and the Islamic fundamentalists who want to dismantle the Turkish nation state. The main obstacle for them is the military so they call it the "deep state" and try to link it to murders like this," he said. Reuters