Bruno Pouezat appointed UN Resident Coordinator and UNDP Resident representative to Azerbaijan, former UN Resident Coordinators Marco Borsotti said in the press conference.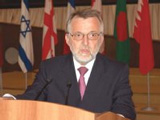 He said that Bruno Pouezat is from France and it is 20 years that he works in UN system, last appointment was in UN Moldova Office.
From diplomatic sources it got clear that Bruno Pouezat is already in Baku and he will take up his position after presenting his credentials to the president.
Marco Borsotti will leave Baku tomorrow. He was appointed representative of UN in Russia, APA reports.