Deputy Assistant Secretary of State for European and Eurasian Affairs Matthew Bryza in the frame of Turkey Foreign Minister Abdullah Gul's visit the U.S held a briefing for Turkey press.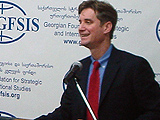 Bryza noted that the U.S should take concrete steps in a short period in the struggle with PKK, otherwise will lose confidence in front of Turkey.
"We know that we should keep our promise concerning PKK terror organization. Not only leaders of Turkey, but also Turkish people demand it. We have to destroy the harbors of terrorists and we will do it. If not, we will not be trustworthy," he said.
Matthew Bryza said that all the steps should be taken in coordination with Ankara, Baghdad and Washington.
"But it does not mean that we agree to military operation," he said.
Matthew Bryza also said that they are against bill on False Armenian Genocide which was submitted to House of Representatives. He said that it is not right to adopt political decision on confused historical issues, APA Turkey bureau reports.