The salaries of the offices of interior bodies will be increased in the second half of this year, Interior Minister, Colonel-general Ramil Usubov said.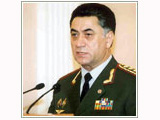 The Minister participating in the meetings devoted to the results of 2006 of Aghdam Executive Power in the village of Guzanli yesterday, and of Berde Executive Power today said that the number of appeals on illegal acts of officers of the interior bodies reduced last year compared with the previous years.
723 appeals on illegal acts of the police were received by President's Office and other state bodies, APA reports.
"These appeals were investigated and measures were taken about the officers violating the law. The number of appeals on police reduced by 17% in 2006 compared with 2005," he said.