Hundreds of workers in Iran have set up piping, control panels and electric cables for Tehran's underground uranium enrichment plant, diplomats said Friday — the final step before installing equipment that countries fear could be used to make nuclear arms.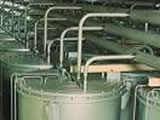 The move marks an escalation of the confrontation between Tehran and the world's major powers over the Islamic republic's nuclear program and will likely spur U.S. efforts to sharpen existing U.N. sanctions slapped on Iran for its defiance of a Security Council demand that it freeze enrichment efforts.
Iran says it wants to develop enrichment to generate power, but the United States and other countries fear Tehran will use the material for the fissile core of nuclear warheads.
"This work is not necessary for a peaceful nuclear energy program but is needed to give Iran's leaders the know-how to make highly enriched uranium for nuclear weapons," said Matt Boland, spokesman for the U.S. delegation to the International Atomic Energy Agency.
Another diplomat accredited to the Vienna-based IAEA, which monitors Iran's nuclear program, said hundreds of technicians and laborers had been "working feverishly" at the Natanz underground facility over the past few weeks. By Thursday, pipes, wiring, control panels and air conditioning had been installed — setting the stage for hooking up the centrifuges that spin uranium into enriched levels.
The diplomat was one of four who spoke to The Associated Press on condition of anonymity because the information is confidential.
The diplomats emphasized that the work at the plant was preliminary. But one said centrifuges were already being lowered by freight elevator into the facility, along with other equipment needed to assemble "cascades" — centrifuges in series that spin and re-spin uranium gas to the required level of enrichment. They said to their knowledge, no centrifuges had been set up by Thursday.
"Everything is done except putting the machines in and hooking them up," he said.
Less critical preparatory work inside the Natanz facility — set underground to protect it from air attack — had been going on for weeks, said another of the diplomats.
The work appeared to back statements from both the IAEA and the Iranian leadership saying the actual setup of centrifuges at the underground site would begin this month. Iranian President Mahmoud Ahmadinejad suggested Thursday that hookups would start next week, with the aim of linking 3,000 of the machines.
Even if Tehran proves successful in installing 3,000 centrifuges, experts estimate that it would take Tehran several years for all of them to be running smoothly and without breakdowns. Once that happens, Tehran could potentially produce two bombs a year.
Ultimately, Iran plans to have 54,000 centrifuges producing enriched uranium.
On Wednesday, the London-based International Institute for Strategic Studies think tank estimated that Iran is two to three years away from having the capacity to build a nuclear weapon. The head of national intelligence for the U.S., John Negroponte, has spoken of a four-year time frame.
Iran now has two experimental cascades of 164 centrifuges each, as well as several partially assembled cascades, all above ground at Natanz. They have been the subject or regular inspections by IAEA teams, although their authority has been restricted for a year, since Tehran withdrew broader inspecting rights after its nuclear file was referred to the U.N. Security Council.
Once enrichment begins, IAEA inspectors want to check to what level the uranium is being processed, and to ensure that none of the material being produced is being siphoned off. One of the diplomats, who is familiar with the Iran nuclear dossier, said the IAEA was now negotiating with Iranian officials on details of what it would — and would not — be allowed to see at the underground bunker.
"If they are not able to verify, it's a very serious matter" that would be formally reported by IAEA head Mohamed ElBaradei both to his agency's 35-nation board of governors and the Security Council.
In a further setback to IAEA monitoring attempts, a U.N. official familiar with Tehran's nuclear dossier said Thursday that Iranian officials had recently turned down a request from agency inspectors to install cameras in the underground facility at Natanz. Other nations — among them Brazil — also do not allow cameras in their enrichment halls. But unlike Iran, none are under direct scrutiny for possible attempts to make nuclear weapons.
Ahmadinejad's remarks Thursday signaled that Iran would begin the installation before Feb. 11 — the final day of nationwide celebrations in memory of the Islamic revolution. He has also called people to the streets that day to show support for the nuclear program.
"Enemies of the Iranian nation ... must know that their wrongful beliefs will be revealed once again during Feb. 11 rallies by the great Iranian nation," he said, according to Iran's state-run news agency.
The U.N. Security Council — which last month agreed on limited sanctions targeting people and programs linked to Iran's nuclear and missile programs — has threatened to impose further sanctions on Iran later this month if it continues to refuse to roll back its program. The Associated Press
/The International Herald Tribune/