UN Resident Coordinator and UNDP Resident Representative Marco Borsotti held a press conference on completion of his tenure in Azerbaijan.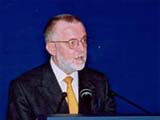 Borsotti said that to work in Azerbaijan was very easy for him. "I am Italian and the mentality of Azerbaijan and Italy coincides and we have close cultures," he said.
He said that the work implemented in social-economic sphere is very important and stressed the participation of UN in working out of state program on poverty reduction, reforms in Pension Fund and amendments in Labour Code.
The diplomat stated that UN allocates $15m for Azerbaijan and UN's share is $3-3,5m and other part of money is the share of donor countries.
Answering the questions of the journalists, Borsotti spoke about the changes in the sphere of human rights and democracy, about the recent events concerning media, removal of some press bodies from their residencies and estimated all these as violation of human rights.
Touching on the settlement of Nagorno Karabakh conflict, Marco Borsotti said that this issue is not in his competence.
"This is the competence of UN Secretary General and the fulfillment of the resolutions is depend on Security Council," he said, APA reports.