Azerbaijani president's press secretary Azer Gasimov held today a briefing on the results of Ilham Aliyev's visit to Paris.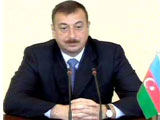 He said that official Baku was happy with the results of the state visit to Paris, which confirmed the strategic character of relations between the two countries.
During the meetings the two presidents discussed a broad range of questions, including the Karabakh conflict. A joint declaration of the two presidents notes that France recognized and supported the sovereignty and territorial integrity of Azerbaijan.
"President Chirac said that he would do his best to speed up soon resolution of the conflict," Gasimov said.
Ilham Aliyev appreciated France's position on the Karabakh question.
Concerning economic cooperation, France is interested in the expansion of cooperation in the energy and non-oils sector. Paris would like coming of such companies as Gas de France, Vinchi and others to Azerbaijan. There is an agreement on bilateral cooperation in the non-oil sector, in the sphere of tourism, the press-secretary said. Turan
/BakuTODAY.net/