The Azerbaijani parliament consider about 30 bills during its spring session that opens on Thursday.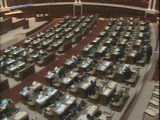 "These documents cover various spheres of economy and social life aimed at improving the legal framework for industry and the agrarian sector, education and sport and the rules of entry and exit out of the country," Akif Nasirov, the parliament's press secretary.
The deputies are eventually expected to pass a new education bill that has been under discussion for the last five years. The bill was submitted to the parliament of previous convocation (2000-2005). However, each time it was rejected and sent to finalization.
The new bill has been called upon to create a legal basis for Azerbaijan's transition from the Soviet-era system of education to pan-European – the Bologna. It provides for a higher education reform, the introduction of a new system of knowledge assessment, the abolition of a five-grade system. The bill also streamlines the process of creating private educational establishments in Azerbaijan.
Azerbaijan joined the Bologna declaration in 2005, four years after entering the Council of Europe. Itar-Tass