Turkey charged a seventh man over the murder of Turkish-Armenian editor Hrant Dink on Wednesday, a court official said.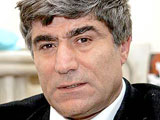 Salih Hacisalihoglu, 30, was charged with belonging to an armed gang, the official said. He was detained this week in the Black Sea town of Trabzon, home of the other six men charged over the Jan. 19 killing.
Turkish newspapers say police were warned a year ago about a plot to kill Dink and failed to act. Interior Ministry inspectors are due to start investigating the handling of the case by Istanbul police on Thursday, media said.
Dink was shot dead by a 17-year-old unemployed youth outside his Istanbul office. His funeral drew some 100,000 mourners on to the streets to protest at the militant nationalism which apparently inspired his killer.
Police are still questioning four people in the case.
Inspectors have already examined the Trabzon police handling of the case and were also questioning officials in the Black Sea town of Samsun, where the murder suspect Ogun Samast was caught.
The government has dismissed Trabzon's governor and police chief over the Dink case. Reuters