New Azerbaijani Party's (YAP) Narimanov regional organization held the 7th meeting.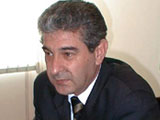 YAP Political Council member, Narimanov Executive Power chief Abdin Farzaliyev stated that no party may resist YAP.
He said that Haydar Aliyev Center will be built in the area of Narimanov district.
YAP Deputy Chairman Ali Ahmedov stated that YAP's position is getting stronger in the society. He noted that YAP's candidate to the 2008 presidential elections will be Ilham Aliyev.
"Ilham Aliyev is the candidate of not only the party, but also Azerbaijani people. Achievements show that people will give their confidence to Ilham Aliyev. But YAP members should be confident and prepare for the presidential elections seriously," he said.
Temraz Tagiyev was re-elected the chief of YAP Narimanov organization, YAP information service told APA.