The OSCE Office in Baku and the Organization's Representative on Freedom of the Media expressed profound concern today over new instances of imprisonment of journalists in Azerbaijan.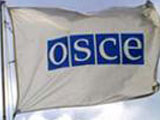 On 30 January, the Narimanov District Court sentenced journalist Faramaz Novruzoqlu and Sardar Alibeyli, editor-in-chief of the Note Bene newspaper, to two and one and a half years respectively, for libelling the Minister of Internal Affairs and the Chairman of the State Committee on Diaspora issues.
"I am astonished that a custodial sentence of two years has been imposed in this case and deeply concerned that the welcome appeal by the President to limit the use of the libel law against journalists has apparently gone unheeded," said Robin Seaword, Acting Head of the OSCE Office in Baku.
"Such a severe response will do nothing to enhance the professionalism of journalists, but will surely serve to promote the canker of self-censorship."
Miklos Haraszti, the OSCE Representative on Freedom of the Media, added:
 "I am sad to hear the news of the continuing criminalization of journalists' work in Azerbaijan. Never has criminal disciplining of journalists resulted in higher professionalism, but it always stifles the freedom of debate in society. Besides, this practice is also against international standards."
The OSCE Office in Baku also urged authorities to quickly address legislative reform and to use as a basis Azerbaijan's first defamation law, prepared in association with the Baku Office by the local media NGO Yeni Nesil (New Generation).
"Unless there are substantial legislative changes that transfer libel and insult into the civil law domain, journalists will continue to be threatened with prison sentences. This will prevent them from reporting critically on matters of public concern," said Robin Seaword.
The OSCE supported legal initiative suggests transferring the issue of defamation into the civil law and establishing compensations which are proportional to the offence and relate properly to the financial status of citizens and media. OSCE