Interview with the Head of the US Embassy Public Affairs Department.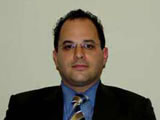 - How will develop the relations between Azerbaijan and USA during this year?
- Our relations continue to be very strong and continue to develop. To give you an example, next week we will have an Economic Partnership Commission meeting here in Baku. We believe that it is time to take our cooperation and dialogue on economic issues to a higher level. This new commission will be chaired by Finance Minister Samir Sharifov and on US side by Assistant Secretary of State on Economic, Energy, and Business affairs Dan Sullivan. Participants will include senior officials from a number of different agencies. The commission meeting will take place next week on February 7th. We continue working very closely on energy, military and security issues. There should be some discussions on energy issues as part of the commission. In coming several weeks we will also have discussions on military and security issues. And, of course, the US continues to be very active in working with the Minsk Group of OSCE to find the resolution to the conflict.
- Is it possible that section 907 will be annuled?
- It is difficult to comment on this issue. The US administration believes that section 907 is an obstacle to cooperation and bilateral relations between our countries. And we favor the complete elimination of section 907. At the same time this is part of US legislation and so only the US congress can make a decision on whether to completely repeal 907. I have no information about the new Congress' intentions on this issue. However, the administration remains committed to continue to waive the provisions of 907 each year.
- USA doesn't approve the construction of Baku-Tbilisi-Axalkalaki-Kars because Armenia is not participating in it. Did USA offer Armenia that if the Nagorno-Karabakh conflict is solved with Azerbaijan's territory unity condition Armenia could join the project?
- There are no such discussions that I am aware of. I will repeat what Deputy Assistant Secretary Bryza said the last time he was here - that the US doesn't oppose the construction of this railroad. In fact we are taking no measures of any kind to slow down this project. There was a misunderstanding created by a legislative measure. This measure was adopted by the Congress and signed by the President as part of the Export-Import Bank Reauthorization Act. What that measure did was to prohibit any official assistance that the US government could provide, but this does not mean that the US opposes the project. Projects like this, for example the Baku-Tbilisi-Ceyhan pipeline, are financed by private companies, these are not projects financed by governments. So if this project is commercially viable then I see no obstacles to the successful implementation of the project. But US government will not provide official assistance.
- The co-chairs valued 2006 as a year of solving the Nagrno-Karabakh. How are the hopes of 2007 valued?
- One of the reasons why there was so much optimism in 2006 is because this was one of the few years when there were no elections in either country. Obviously it is now 2007 and there is still no agreement or visible progress on ground. The responsibility for this is shared not only by the MG, but by the parties as well. A lot of progress was made and there is every reason to be optimistic that a solution is not far away. When such an agreement will be reached is difficult to say – this is an election year for Armenia - but if both parties show political will there is no reason not to expect a resolution in the near future.
- The co-chairs called on the leaders to prepare their population for compromises...
- This is not the first time that the co-chairs have called the parties to begin to prepare for compromises. Any solution that can be reached at a negotiating table will involve difficult compromises on both sides. It is important that the leaders explain their position to their populations, so that when the time comes – they will have the necessary public support. Last June the co-chairs released some of the basic principles that were being discussed during the negotiations. That led to a healthy dialogue on general issues. It would be useful to continue such a dialogue in both countries to prepare both countries for peace. What specific compromises will be required depends on the negotiations. It is up to the two presidents to know what their key interests are and where they can make compromises. Those are not decisions that the MG Co-Chairs can make.
- But both Azerbaijan and Armenia presidents promised not to change their oppinions...
- It is very easy to look at public statements and decide there is no room for compromise. But the two presidents have invested a lot of time and energy in these negotiations, and that demonstrates that they believe there is room for compromise. I hope that both the compromises and the achievements of such negotiations will soon be presented to the publics.
- Russian co-chair stated that the Kosovo model could be possible for Karabakh conflict. What does USA think about that?
- I spent two years working on these issues as an adviser to the U.S. Co-Chair. During that time we looked all over the world at examples and models that might give us useful ideas for helping to resolve the Nagorno Karabakh issue. At the same time, we also recognize that every conflict - whether it is in Palestine or Kosovo or somewhere else – has unique circumstances. So while you might be able to borrow specific ideas, it is impossible to take one model and apply it to another conflict. The Kosovo model might be of some interest, but we shouldn't assume that it can be used in Nagorno-Karabakh or any other conflict situation.
/APA/