Today, the correspondent of "Nota-Bene" newspaper Faramaz Allahverdiyev (Novruzoglu) was sentenced to two years in jail, the founder of the newspaper Ilham Tumas stated.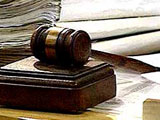 The court investigation presided over Judge Muslum Aliyev began in December of last year and completed today. Tumas noted that Interior Minister Ramil Usubov and the chief of State Committee on work with Azerbaijanis living abroad Nazim Ibrahimov raised claim against the leadership of the newspaper and their claim was considered.
"The claim was raised against three men- the founder of the newspaper, editor-in-chief and correspondent. The claim against me was put an end, the editor-in-chief Sardar Alibeyli got a year and six months suspended sentence, and correspondent Faramaz Novruzoglu two year sentence in jail," he said.
Judge Muslum Aliyev told that Novruzoglu was convicted in the Articles 147.2 (to cast aspersion) and 148 (to insult) of the Criminal Code.
Press Council stated that they did not get any appeal on "Nota-Bene" newspaper, APA reports.