U.S. President George W. Bush vowed on Monday to respond firmly if Iran foments violence in Iraq, but said he had no intention of invading Iran.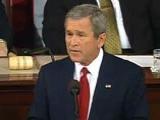 Washington has accused Tehran of undermining efforts to bring stability in Iraq and of pursuing nuclear weapons. Two U.S. aircraft carriers have been stationed in the Gulf as a warning to Iran.
"If Iran escalates its military action in Iraq to the detriment of our troops and, or, innocent Iraqi people, we will respond firmly," Bush told NPR in an interview.
The Bush administration has repeatedly told Iran not to fuel violence in Iraq, and U.S. forces detained a number of Iranian officials in raids over the past month in Iraq.
Bush has insisted he wants to resolve the nuclear dispute with Iran diplomatically, but also has kept his options open. Iran denies it is developing nuclear weapons, saying it only wants to make electricity.
Bush's comments on Iran, along with tougher financial sanctions and actions against Iranian involvement in Iraq, have revived speculation about a possible U.S. attack on Iran.
Bush told NPR he was not planning to invade, but would do "whatever it takes" to protect U.S. troops in Iraq against Iranian attacks.
"I don't know how anybody can then say, well, protecting the troops means that we're going to invade Iran," Bush said.
Hassan Kazemi Qomi, Iran's ambassador to Iraq, told The New York Times in an interview published on Monday that Iran was taking steps to greatly expand military and economic ties with Iraq.
Iran was prepared to offer Iraq training, equipment and advisers for "the security fight," and help with reconstruction efforts, Qomi said.
The United States would watch to see whether Iran follows through on that statement of intent, White House spokesman Tony Snow said.
"We would certainly welcome Iran to start playing a constructive role in the region," he said, adding that Iran could take positive steps by stopping arms smuggling and the support of "terrorist organizations."
Snow said there was some evidence that Iranians had been involved in activities that led to the deaths of American soldiers and Iraqi civilians.
But it was up to the Iraqi government to determine what the relationship would be with its neighbor, he said. "And I dare say it's not going to make arrangements that are going to be detrimental to its security or its prosperity." Reuters