Hrant Dink, one of the most prominent voices of Turkey's shrinking Armenian community, was killed by a gunman Friday at the entrance to his newspaper's offices, police said.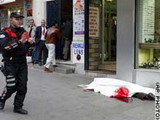 Dink, a 53-year-old Turkish citizen of Armenian descent, had gone on trial numerous times for speaking out about the mass killings of Armenians by Turks at the beginning of the 20th century. He had received threats from nationalists, who viewed him as a traitor.
Dink was a public figure in Turkey, and as the editor of the bilingual Turkish-Armenian newspaper Agos, one of its most prominent Armenian voices.
In his last column for Agos, Dink complained that he had become famous as an enemy of Turks and wrote of threats against him. He said he had received no protection from authorities despite his complaints.
"My computer's memory is loaded with sentences full of hatred and threats," Dink wrote. "I am just like a pigeon ... I look around to my left and right, in front and behind me as much as it does. My head is just as active."
Prime Minister Recep Tayyip Erdogan, in a news conference after the killing, vowed to catch those responsible and called the slaying an attack on Turkey's unity.
Erdogan said he had appointed top officials from the justice and security ministries to investigate the killing, and that two suspects had been arrested in Istanbul. The suspects were later released, news reports said.
In an interview with The Associated Press in October 2005, Dink cried as he talked about some of his fellow countrymen's hatred for him, saying he could not stay in a country where he was unwanted.
"I'm living together with Turks in this country," Dink had said as he contemplated his trial. "I don't think I could live with an identity of having insulted them in this country ... if I am unable to come up with a positive result, it will be honorable for me to leave this country."
His friend Can Dundar, also a journalist, said he wished Dink had left, as he once promised to do in the face of threats, protests and legal proceedings opened against him.
"Hrant's body is lying on the ground as if those bullets were fired at Turkey," Dundar told private NTV television.
Turkey's relationship with its Armenian community is fraught with tension, controversy and painful memories of a brutal past. Much of Turkey's once-sizeable Armenian population was killed or driven out beginning around 1915 in what an increasing number of countries are recognizing as the first genocide of the 20th century.
Turks vehemently deny that their ancestors committed genocide, however, and saying so is tantamount here to treason. In the 1970s and 1980s, tensions were further inflamed as dozens of Turkish diplomats were killed by Armenian assassins seeking attention and revenge.
Turkey, which is 99 percent Muslim, and Armenia, which claims to be the first country to officially adopt Christianity, share a border, but it is closed and the two countries have no formal diplomatic relations.
Dink's body could be seen lying face down and draped with a white cover on the sidewalk in front of the newspaper's entrance. NTV said four empty shell casings were found on the ground and that he was killed by two bullets to the head.
A large crowd gathered around the shooting site as police cordoned off the area. Workers at the newspaper, including Dink's brother, who had also been put on trial in Turkey, could be seen weeping and being consoled by others near his fallen body.
Dink had been convicted of trying to influence the judiciary in 2005 after Agos ran stories criticizing a law making it a crime to insult Turkey, the Turkish government or the Turkish national character.
The conviction was rare even in a country where trials of journalists, academics and writers have become common. Most of the cases, including that of Nobel Prize-winning novelist Orhan Pamuk last year, were either dropped on a technicality or lead to acquittals.
Fehmi Koru, a columnist at the Yeni Safak newspaper, said the killing was aimed at destabilizing Turkey.
"His loss is the loss of Turkey," Koru said. Dozens of other journalists, many of them friends of Dink, publicly condemned the killing. Broadcasters on CNN-Turk and NTV, two of the major news stations, called it "shameful," "saddening" and "embarrassing."
Dink had complained in a letter that he received no response even after complaining to authorities about threats of violence, NTV reported.
A colleague at Dink's newspaper, Aydin Engin, said Dink had attributed the threats to elements in the "deep state," a Turkish term used for alleged shadowy, fiercely nationalist and powerful elements embedded in the government and security establishment.
Turkey's Foreign Ministry released a statement quickly after the shooting Friday saying it was deeply saddened by the killing.
"The actor or actors will be caught in the shortest possible time and delivered to justice," the statement vowed. The Foreign Ministry offered condolences to the people of Turkey, its press, and particularly to the Armenian community and Dink's family.
Dink ended his last column by predicting that 2007 would be a difficult year, but that he would survive it.
"For me, 2007 is likely to be a hard year. The trials will continue, new ones will be started. Who knows what other injustices I will be up against," he wrote. The Associated Press
/The International Herald Tribune/