Musavat party does not intend to appeal to the opposition parties concerning the rally to be held on January 28.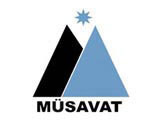 Musavat Executive Body Chief Arif Hajili told the APA that party only appealed to Azadliq bloc and the bloc leaders rejected the proposal.
Hajili said that they are not holding talks with parties. "Musavat has done its best to hold joint rallies. If there are any initiatives from other parties, we will positively appreciate them," he said.
Hajili said that they have already begun preparations for the rally. As to holding unapproved rally, Arif Hajili said that the decision will be made after the answer of Mayor's Office.
Musavat Party appealed to Baku mayor's office on holding rally near Hazi Aslanov metro station on January 28.