The most recent meeting of the Council of Chairmen of the Azadliq bloc was held on Tuesday.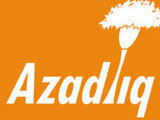 The bloc leaders made decision on the venue of rallies, Azerbaijan Popular Front Party press service told the APA.
The Council of Chairmen advised the Meeting Committee of the bloc to appeal to Baku Mayor's Office. The venues are – Fuzuli, Narimanov, Ganjlik, Jafar Jabbarli squares, Javid, Samad Vurgun, Sahil gardens and outside the buildings of Economic Development Ministry and Property Committee.
Though it was first decided to hold rallies in several places on the same day, later the bloc decided to hold rally only in one of these places from 15.00 till 17.00 on January 26.