Captured Azerbaijani soldier on December 31 Eldeniz Nuriyev was released on Tuesday.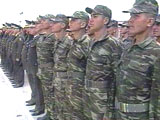 The information says that the hand over process occurred under the auspices of the International Committee of the Red Cross (ICRC) in the front line of troops in the direction of Bash Gervend village of Aghdam.
Eldeniz Nuriyev was handed over to the Azerbaijani Defence Ministry.
ICRC Azerbaijani Office told the APA that an Azerbaijani serviceman previously detained in Nagorno Karabakh was handed over to the Azerbaijani authorities.
The ICRC, acting as a neutral intermediary and in accordance with its mandate, facilitated the transfer of the released serviceman at the request of all sides and with their full cooperation.