Personal representative of OSCE Chairman-in-office Andrzey Kasprzyk has changed one of the field assistants in Azerbaijani Office.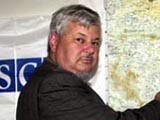 The new field assistant will be Jaslan Nurtaz from Kazakhstan, APA reports.
He told that he had worked in Armenia Office before and had participated in the monitoring held in the borderline of troops. Field Assistant Gunter Folk will substitute Jaslan Nurtaz.