Iranian President Mahmud Ahmadinejad is expected to pay official visit to Azerbaijan.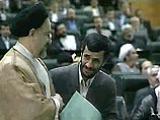 Iranian Ambassador Afshar Suleimani said that Azerbaijani President visited Iran last year and it is Iranian President's turn to visit Azerbaijan, APA reports.
Suleymani mentioned that Iranian president had visited Azerbaijan twice in 2006.
"Iranian president paid visits to Nakhchivan and Baku," he said.
The ambassador said that the exact date of the meeting will be announced after the negotiations between the sides.