Azerbaijan Foreign Minister, Elmar Mammadyarov, met with Director of the OSCE Office for Democratic Institutions and Human Rights, Ambassador Christian Strohal, press service of the Ministry said.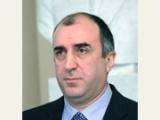 The topics discussed during the meeting included bilateral Azerbaijan-OSCE relations, reforms conducted in Azerbaijan to improve the ongoing democratization process and protection of human rights, as well as regional economic projects.
Elmar Mammadyarov said increasing cooperation with the OSCE and Council of Europe as well as integrating into other European and Euroatlantic structures are Azerbaijan's foreign policy priorities.
On the Armenia-Azerbaijan conflict over Nagorno Karabakh, the Minister said the dispute's settlement will establish peace and security as well as boost the democratization process in the region.
Mammadyarov also stressed the importance of showing the political will by the Armenian leadership for the conflict's resolution. AzerTAg