The leaders of Turkmen opposition abroad were not allowed returning to the country through Sweden-Russia-Turkmenistan, said the representative of joint Turkmen opposition, Justice Minister of the shadow cabinet Batir Mukhamedshin said.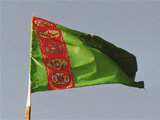 He said that Ashgabat airport told the airlines organized the charter flight that the flights over the country were banned and the plane violating the Turkmen air space will be shot. Batir Mukhamedshin said the leaders of Turkmen opposition in exile will hold a meeting in one of European capitals.
"The main problem is returning of the opposition to the country. Its alternative is the continuation of Saparmurat Niyazov's trend," he said.
Batir Mukhamedshin said they need international community's support. One of the influential experts for Central Asia Aleksey Dubnov said Turkmenbashi's personal treasurer had disappeared a few hours before his death. He said that very important documents disappeared with him.
"Jadan was a person managed personal financial accounts of the president. Fulfilling his Turkmenbahsi's demands was in his competence. I think he was the most influential man close to Turkmenbashi. He had worked with Turkmenbashi for 20 years. They called each other by names," he said.
Global Witness right-defense organization stated that Turkmenbashi has $3bn in confidential bank accounts in Deutsche bank, APA reports.