The OSCE Chairman-in-Office, Belgian Foreign Minister Karel De Gucht, expressed condolences to the people of Turkmenistan today after the death of their president, and said the OSCE stood ready to help with the ensuing transition and to advance democratic reforms.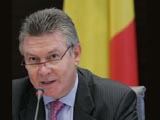 Turkmenistan's state television reported President Saparmurat Niyazov had died early on Thursday of a heart attack at the age of 66. He had ruled Turkmenistan since 1985.
"I extend my condolences to the people of Turkmenistan," said Minister De Gucht, who visited President Niyazov in Ashgabad in March and urged him to strengthen political and democratic reforms.
"This will undoubtedly be a difficult period. The people of Turkmenistan may well feel uncertain after two decades ruled by one man," said the Chairman-in-Office. "The OSCE stands ready to help with any transition, to advance democratic reforms and to ensure stability in the country and across the strategically vital region of Central Asia."
The OSCE and Minister De Gucht have expressed concern about human rights in Turkmenistan, and called for moves to strengthen democracy and rule of law and to improve education.
Created in January 1999, the OSCE Centre in Ashgabad has since worked to help the authorities to uphold Turkmenistan's OSCE commitments, to promote confidence- and security-building measures and to develop the country's democracy, market economy and civil society.
"We hope Turkmenistan will become an even more important player in the OSCE," said Minister De Gucht. "The OSCE prides itself on being fast-moving, flexible and working on all facets of security. We are ready to help in all areas where the OSCE is active, whether it is military-political security, environmental and economic matters or human rights." OSCE