President Ilham Aliyev phoned Georgian President Mikhail Saakashvili.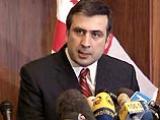 The president congratulated his counterpart on his birthday and wished him success in his statehood activity and good health.
Mikhail Saakashvili thanked Ilham Aliyev for his congratulations and attention.
The presidents expressed their satisfaction at the development of bilateral relations and declared that they are sure of the expansions of the relations, President's Office press service told the APA.