Armenian groups plan to block any ambassador to Yerevan who fails to recognize Armenian genocide.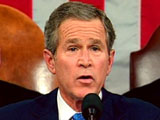 The U.S. Senate has effectively declined to approve Richard Hoagland, President George W. Bush's pick for ambassador to Yerevan, who has been condemned by U.S. Armenian groups for refusing to characterize last century's Armenian killings in the Ottoman Empire as genocide.
This embarrassment for the Bush administration came at a time when the Armenian groups, buoyed by a Democratic victory in last month's congressional elections, are gearing up for a major effort to push for a change in U.S. policy on the genocide issue next year.
The outgoing Congress completed its term in recent days, and the administration's efforts to win Hoagland's confirmation in the Senate failed after a pro-Armenian senator refused to lift his hold on the ambassador-designate.
As a result, the new Senate that will take office when Congress opens on Jan. 4 will have to deal with the problem.
But as nominations that were not approved during the previous legislative term now become defunct, the process to appoint an ambassador to Yerevan will have to restart from scratch.
Bush may re-nominate Hoagland or select a new ambassador-designate.
But in any case, U.S. Armenian leaders have made clear that they and their backers in the Senate are determined to block any "genocide denier" as U.S. envoy to Armenia.
Analysts view the blocking of Hoagland' as a major success for the Armenians.
"Just a few days ago, the Senate returned Dick Hoagland's nomination to the president, marking the refusal of Congress to let an Armenian genocide denier represent America in Yerevan," boasted Ken Hachikian, chairman of the Armenian National Committee of America, a leading U.S. Armenian organization.
The ordeal began in May when Bush fired U.S. Ambassador to Armenia Robert Evans, who qualified the Armenian killings as genocide in violation of Washington's official policy. Armenians blasted the move.
Bush then nominated Hoagland to replace Evans. But the Armenian groups launched a campaign against Hoagland's approval after he declined to endorse the g-word at his confirmation hearing at the Senate's Foreign Relations Committee in June.
The committee approved him in a vote two months later. But then Sen. Robert Menendez, a pro-Armenian New Jersey Democrat, put a hold on Hoagland's nomination.
Under U.S. law, all senior government officials, including ambassadors, must win Senate approval, and any senator can block nominations indefinitely. But such moves are rare because they put dissenting senators under intense pressure.
The State Department had hoped that Menendez would lift his hold after the Nov. 7 congressional elections, but he did not. As a result, Hoagland's nomination was unable to come to a Senate floor vote before Congress closed.
Pro-Armenian lawmakers also are planning to introduce fresh resolutions early next year calling for genocide recognition in both the Senate and the House of Representatives.
Out of concern for a potential collapse of relations with Turkey, Bush's Republican administration has never classified the Armenian killings as genocide, to the dismay of U.S. Armenians. However, the new Congress' Democratic-led composition and the next House and Senate leaderships are sympathetic to the Armenian cause. In an example, new House Speaker Nancy Pelosi said before the November elections that she would support efforts for genocide recognition.
"The Armenian lobby has never been this strong, and they're aware of it," said one analyst here. "On the one hand they will aggressively seek congressional recognition of the Armenian genocide, and on the other they will push for a compromise from the Bush administration on the ambassador issue."
Armenian groups have made it clear that they will press for the passage of at least one genocide recognition resolution in Congress before April 24, designated by U.S. presidents as the day of remembrance of the Armenian killings. Turkish Daily News