The European Union voiced concern Wednesday over the recent developments affecting the freedom of media in Azerbaijan.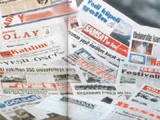 "Numerous cases of harassment, arbitrary detentions, court cases and violence against independent journalists as well as opposition figures in Azerbaijan have been reported," said an EU Presidency statement. Finland currently holds the EU Presidency.
The EU is also concerned about the reported pressure against entire media outlets, said the statement.
The European bloc called upon the government of Azerbaijan to create an environment where the "media can work freely, effectively and without fear." IRNA