A delegation of Azerbaijan headed by Deputy Prosecutor General Rustam Usubov and comprising representatives of the country's parliament, the Ministry of Justice, Supreme Court and Embassy in Amman, Jordan were here from December 10 to 14 to participate in the first session of the Conference of the Parties to the United Nations Convention against Corruption, press service of the Prosecutor General's Office has said.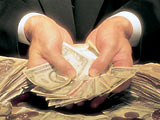 Representatives of about 90 countries and number of influential international organizations and NGOs gathered with the aim to consider activities, procedures and methods of work for improving the capacity of and cooperation between States parties to achieve the objectives set forth in the Convention.
Speaking to the conference Head of the Azerbaijan delegation Rustam Usubov described combat against corruption as one of the priorities of President Ilham Aliyev's policy. He informed the participants about the complex measures undertaken in this area, including the adoption of the State anti-corruption Program, and establishment of the Department for fighting corruption under the Office of the Prosecutor General, as well as the implementation of the Azerbaijan's Conventions on "Criminal liability for corruption" and "Legal and civil liability for corruption" the UN Convention against corruption.
Rustam Usubov noted that Azerbaijan attaches a particular importance to international cooperation in this field, adding the country is implementing activities in the framework of the newly established international association of anti-corruption bodies.
He also informed the participants of the conference that 20% of Azerbaijan's territories are occupied by Armenian forces, and nearly one million of its citizens are refugees and internally displaced.
On the sidelines of the conference, members of the Azerbaijan delegation met with their participating counterparts from Turkey, Lithuania, Russia, Austria, Belarus, Ukraine, as well as Minister of Justice of the Kingdom of Jordan, to exchange views on the prospects of cooperation in combat against corruption and other topical issues. AzerTAg