Closure of ANS was a hard blow to press freedom in Azerbaijan, said Anne E. Derse, U.S. Ambassador of USA to Azerbaijan commenting the situation around ANS.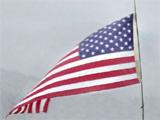 According to Ms. Derse the U.S. government called Azerbaijani authority to review the decision about cut of ANS broadcasting.
The decision was brought into connection with technical shortage. Taking into account the international commitments before the OSCE, EU, Council of Europe and NATO in speech freedom sphere the decision must be reconsidered, said Ms. Derse.
According to the U.S. Ambassador closure of ANS TV limited rights of other non-government structures to express their thoughts freely. ANS