Today, Brussels hosts the 14th annual meeting of OSCE Foreign Ministers' Council.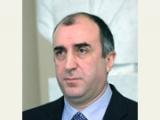 Foreign Minister Elmar Mammadyarov participates in the meeting which will last for two days and problem of OSCE reforms and Kazakhstan's bid for the OSCE chairmanship will be discussed in the meeting.
Kazakhstan's chairmanship was supported in the CIS Summit three years ago. Kazakhstan Embassy in Azerbaijan told that, at present, Kazakhstan President Nursultan Nazarbayev is in official visit in Brussels.
If Kazakhstan's chairmanship is supported, it will be the first country in CIS to chair this Organisation. Within the meeting, Azerbaijani and Armenian Foreign Ministers will meet with the participation of OSCE Minsk Group co-chairs.
The meeting of the ministers was agreed at the meeting of Presidents Ilham Aliyev and Robert Kocharyan which took place in Minsk November 28.
As APA reports, it is also planned to hold the meeting of the GUAM Foreign Ministers. Protracted problems in GUAM territory will also be discussed in the meeting.
According the information spread by Russia mass media Russia Foreign Minister Sergey Lavrov will make speech in the meeting. Russia doubts to adopt Russia declaration, because the positions on frozen conflicts differ.
Moscow considers that if the document containing the main principles of regulation of frozen conflicts in OSCE is adopted, it would help regulation processes.