The foreign minister of Azerbaijan has rejected US concerns for democracy in his country after its main independent TV and radio stations were shut down.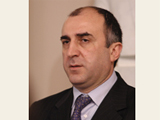 Elmar Mammadyarov told BBC News there were no problems with free speech in Azerbaijan.
Broadcaster ANS was taken off the airwaves last week accused of breaking broadcasting laws.
It was one of the few mass media outlets in Azerbaijan which allowed the opposition to express its views.
Critics of the government in this oil rich former Soviet state have accused it of trying to silence any opposition.
The US state department issued rare criticism of its ally, calling on the Azeri government to honour its commitment to democracy and media freedom.
Mr Mammadyarov insisted his country was committed to Western-style democracy, although he agreed it still needed more development in Azerbaijan.
"We have already the skeleton of what we understand as a democracy for the state. Now we need the muscles," he said.
"We have excellent laws in Azerbaijan, most of them got with the assistance or expertise from the Council of Europe. But what we need to do is, right now, facilitate the implementation of the laws."
Critics of the government in Azerbaijan have accused it of waging a long term campaign to undermine freedom of speech through punitive libel cases against journalists and the eviction of a leading opposition party and newspaper from their offices for alleged rent arrears.
But, referring to the ruling that closed the ANS channel, the foreign minister said that everyone had to work within the rule of law.
There would be, as he put it, "no untouchables".
The station has appealed to the Azeri president to allow it to resume broadcasting but a week after its transmissions were suspended, it is still waiting and hoping that it can return to the airwaves. BBC