Terming Islam a religion of peace and tolerance, Pakistan and Azerbaijan on Friday rejected linking terrorism and extremism with Muslims.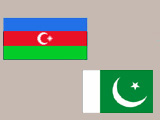 This was stated by Deputy Chairman Senate Jan Muhammad Jamali, Chairman Senate Standing Committee on Foreign Affairs Mushahid Hussain Sayed, Chairman of Azerbaijan-Pakistan Parliamentary Working Group Elder Ibrahimov at a joint press conference in Islamabad.
They said that "terrorism and extremism have no religion and should not be linked with any religion. Pakistan and Azerbaijan are against foreign occupation and aggression and call for solution of all outstanding issues like Nagorno Karabakh, Palestine and Kashmir through talks.
Senator Mushahid Hussain Sayed said that talks with the Azeri delegation were held for promotion of exchange of parliamentary delegations which will help promote democratic traditions in both the countries. He said that Pakistan Parliamentary Committee members on Foreign Affairs will visit Azerbaijan in July next.
He said both the countries have agreed to increase their economic cooperation especially in the energy sector.
Mushahid said that Pakistan and Azerbaijan welcome Pope Benedict's visit to a mosque in Turkey which will help promote inter-faith harmony in the world.
He further said that Pakistan is desirous of friendly relations with all the neighbouring countries.
Leader of Azeri delegation Eldar Ibrahimov termed the visit of his delegation to Pakistan very successful. He said that during their meetings with PML President Chaudhry Shujaat Hussain and Speaker National Assembly Chaudhry Amir Hussain promotion of cooperation between the two countries came under discussion.
The Azeri leader said that democratic set up was running very well in Pakistan and President Musharraf has taken many steps for promotion of real democracy in the country.
The delegation includes Ms Rabiyyat Aslanova, Chairwoman of the Standing Commission on Human Rights, Hadi Rajabli, Chairman of the Standing Commission on Social Policy, Isa Habibbeyli, Member of National Assembly, Asim Mollazade, Member of National Assembly and Ms. Aynur Nurahmadova, Senior Adviser of the International Relations Department of National Assembly.
The invitation for this visit had been extended to the delegation by the Chairman Senate Standing Committee on Foreign Affairs Mushahid Hussain Sayed. Pakistan Times