Foreign Minister Elmar Mammadyarov received Lord Russell Johnston, the Chairperson of the sub-committee on Nagorno-Karabakh of the Parliamentary Assembly of the Council of Europe, FM press service told.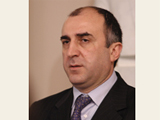 Speaking of the Armenia-Azerbaijan conflict over Nagorno-Karabakh, Elmar Mammadyarov stressed the dispute should be solved only in accordance with international norms and the principle of territorial integrity of Azerbaijan.
Mr. Mammadyarov said Armenia's plans to hold a constitutional referendum in occupied Nagorno-Karabakh, which he described as an integral part of Azerbaijan, are aimed at damaging the peace process and mentioned that he believes the international community will respond adequately to this "unconstitutional move".
Both Elmar Mammadyarov and Lord Russell Johnston welcomed the declaration of the Riga Summit of NATO supporting territorial integrity and sovereignty of the South Caucasus nations and Moldova, APA reports.