President of Azerbaijan Ilham Aliyev received Igdyr Saim Saffet Karahisarly, the Governor of Turkey's Igdyr province.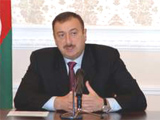 The President said that Azerbaijan's cooperation with friendly and brotherly Turkey is successful in all areas, adding and he attaches a special significance to relations with its Igdyr province.
He expressed satisfaction with Igdyr businessmen's yearly increasing investments in the Nakhchivan Autonomous Republic, and mentioned his frequent meetings with the head of Igdyr municipality Nureddin Aras.
President Ilham Aliyev also expressed confidence further development and strengthening of relations between Igdyr and regions of Azerbaijan.
Igdyr Governor Saim Saffet Karahisarly said even though it was his first visit to Azerbaijan, he was feeling here at home.
He said he was impressed by the rapid progress he witnessed in Azerbaijan.
The Governor described the rapid economic growth in the country as a mater of pride. He said it manifests itself also in provinces. "We have eye witnessed it in Shamakha," said.
Saim Saffet Karahisarly added they had signed a protocol naming Shamakha and Igdyr twin cities, that he said will create favorable opportunities for them to cooperate in many fields. AzerTAg