National Television and Radio Council held a meeting about the terms of tender announced for the frequency of ANS TV and ANS ChM, and decision was made on ANS's participation in the tender.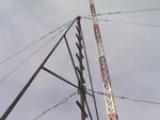 Chief of NTRC Nushiravan Meherremli told the APA that the meeting caused tense discussions.
"The members of the council could not make unanimous decision on the case. The main argument was that the council can not make decision contradicting the previous one. But the council took into consideration Ilham Aliyev's thoughts about ANS. Though there is no item about ANS's participation in the tender, generally there is a gap in the problem. That is why the council adopted standard act. At the same time, we stressed that we reiterate on our position about ANS," he said.
He also said that the deadline for tender is January 5. They can take part in the tender within this period. Meherremli also said that restore of channel's work is impossible.