"Closure of ANS is connected with the violation of some provisions of the legislation. The ANS and relevant agencies should continue negotiations, and we urge that this decision be reconsidered", US Ambassador to Azerbaijan Anne Derse told reporters today.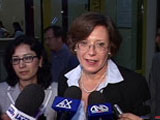 She said the closure of Azerbaijan leading independent news broadcast represents a severe blow to media freedom.
The Ambassador said that recent eviction of tenants from the state-owned building that houses the editorial offices of Azadliq and other media outlets can also be regarded as pressure on independent media, APA reports.
"Taking into account Azerbaijani government commitment to democratic development and freedom of speech, I strongly urge that this decision be reconsidered with the OSCE, Council of Europe and other international organizations," she said.