On Tuesday, the ceremony of 14th anniversary of establishment of military unit in State Border Service Shore Defense and the presentation of military flag to a new guard-ship was held.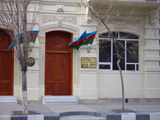 The chief of SBS Shore Defense, General-Major Ilham Mehdiyev said that the new border guard-ship can sail in any weather condition. It will give opportunity to protect the biological resources, energy resources, and submarine gas and oil pipes and to strengthen the fight for illegal migration, illegal traffic of drugs and international terrorism.
Mehdiyev said that this ship was reconstructed and restored to military condition. The most modern radio-electron and navigation equipments, rescue facilities and some other equipment were fixed in the ship.
Ilham Mehdiyev said that Shore Defense was taken over Russia servicemen in 1992. New ships were given according Heydar Aliyev's order.
"Today all the ships have the opportunity to sail in all weather conditions. Shore Security has developed and turned to the military unit answering all the demands," he said.
Guliyev stated that SBS realizes large-scaled trainings in the sea. It should be noted that the length of modern guard ship is 81m, speed 16mile, tonnage is 2700 ton, and staff is 54 people. The ship will be supplied with K-70 artillery equipment.