The president of ANS group of companies Vahid Mustafayev was called to the Yasamal Prosecutor's Office.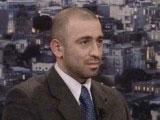 Mustafayev will be questioned on the claim raised by the employees of Azerbaijan National Sciences Academy against Azeriler book published by ANS-Press publishing house, Mustafayev's adviser Mais Mammadov told the APA.
Vise-president of ANS Group of Companies Mirshahin Agayev was questioned on the same matter for three hours in Yasamal Prosecutor's office.