For the time being, Azadliq will operate in Yeni Musavat's premises.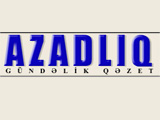 Editor-in-chief Azer Ahmedov told the APA that though State Committee for Public Properties Management offered the120 sq.m office on the 8th floor in Azerbaijan publishing house, Caspi operates there.
"We are not allowed to use our stuff in the cellar of the publishing house. We appealed to the house's governing bodies and made it clear that they have no fault. Because State committee did not inform them about the new office and our stuff were taken to the publishing house immediately after judgment," he said.
Azerbaijani publishing house deputy Besti Ismayilova refused to give any information about the issue. The chief of State Committee for Public Properties Management information service, Qulu Xalilov noted that, the office offered to Azadliq will be removed soon.