"The US wants the peaceful solution of Nagorno Karabakh conflict.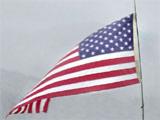 "All three co-chairs try for this. The reason why Matthew Bryza did not come to Azerbaijan is that trying to achieve peaceful solution he regularly meets with Azerbaijani and Armenian communities of Karabakh," US Public Affairs Officer to Azerbaijan Jonathan Henick told the APA.
He did not take his stance on the problem of sanctions by the US in case Azerbaijan demands its territories by war.
"We only want peaceful solution of the problem. This the best way and at the same time Ilham Aliyev's position. As to sanctions, I can not make any statement about it," he said.