"We have no plan to station military forces in South Caucasus. We highly appreciate military and security partnership with Azerbaijan. We form our relations within the Individual Partnership Action Plan signed between NATO and Azerbaijan," said US Public Affairs Officer to Azerbaijan Jonathan Henick.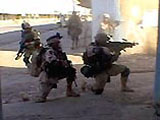 Henick said that the US aids Azerbaijan according to Caspian Maritime Security Program and noted that the program is realized within partnership of Azerbaijani Defense Ministry, Military Sea Forces and Border Troops. "The aim of the program is to strengthen Azerbaijan's borders. This partnership allows us to fight against threats on the international level," he said.
He said that within the program the Azerbaijani servicemen are provided with special equipments (radars installed in Astara and Khizi), equipments were given for the protection of land borders, as well as determination of the radioactive substances, Military Sea Forces are supplied with new boats and necessary equipment, Azerbaijan peacekeepers are provided with special means, servicemen have been trained on different professions. "CMSP comprises several programs. Caspian Guard program is also included here. The US servicemen are not expected to station in Azerbaijan within CMSP. I have no information about when and how many boats will be given to Azerbaijan," Henick told the APA.